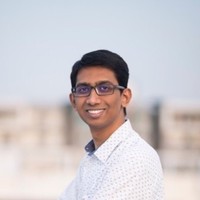 Krishna Chaitanya Nune
I have been associated with Earth as one of the hundreds of donors for more than 3 years now. Although I am not actively involved with their operations, the team sends regular updates regarding the various activities conducted in schools, achievements of the students in competitions, new initiatives undertaken by the Foundation, etc. The team is very transparent in their approach and in their communication. It definitely boosts the confidence to contribute more towards society through Earth as there is accountability for every rupee spent by them.

While I was convinced initially itself with their vision of transforming a village through holistic development of children, I had my doubts regarding grassroots level implementation as execution of the same comes with major challenges especially in remote villages. Team has been humble to recognise them and smart enough to come up with innovative solutions to tackle them right through their journey. 

Now I am absolutely confident that the research and work done in the initial villages can be used as a model which can be replicated in other villages and scaled up quickly provided there are resources.  They have been very clear regarding soliciting other's money for donations and have been disciplined to do more with less. As the Foundation is now at the cusp, I sincerely hope it finds the required resources to create maximum impact.